Ferrari 308 GTB. Tecnitoys, Rally Míticos Altaya collection
The spanish publisher Altaya in its collection "Rallye Míticos", starting from the EXIN Ferrari GTO slot model car, reproduced the Ferrari 308 GTB with Jean Claude Andruet entered and finished second in the Tour de Corse 1982. The original car was this:
Logically, the Ferrari GTO and the 308 were similar but not equal. I don´t want to go into the differences in the body, but I focus on the details to bring a little to the original car. Here are a few photos of the scale model.
In a first impression, what most strikes the car are the wheels, which resemble the original car as an egg to a chestnut, on the other hand, mirrors are not equal and to be a rally car there isn´t a co-driver.
The tire problem is easily solved because Team Slot has in its catalog a reproduction of the original Campagnolo wheels of the car who are the same as fitted in the Lancia Stratos, a couple of coats of golden enamel will let them fine.
The intention was to place them directly into a pair of axes, but these tires have very long necks. To the front, I cut the each wheel neck 3 mm. and were good, but the rear could not make the same way, because the wide of the rim, if I would cut th neck the axis could hardly enter into the rim and would be very poor hold. So I modified the chassis mounts to let them closer. The issue of narrowing a rear axle gets off a bit of a "simple preparation" but the work had little difficulty. With a cutter I cut the supports with a piece of the bottom of the chassis, making an "L" shape. With a file and bit careful we leave the supports closer together and carefully pasted to place the axes parallel to each other. The results of all previous work is this:
The taillights of the model had a very off color. To improve it, first give a coat of silver enamel and painted on it acrylic Tamiya clear red and orange indelible marker, resulting in very real headlights.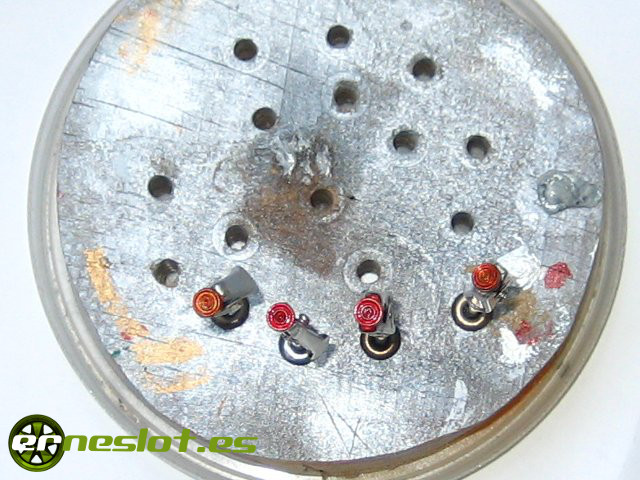 Finally, I´m going to improve a little bit the interior, something simple, add the co-driver (crucial in a rally car) and decorate it a little to not be so dull. I've added a resin cloned fire extinguisher, a simple roll-cage made with evergreen rod, a gearshift made with a pin and safety belts with red tape cut into thin strips.
And the car assembled looks as follows:
With a little work the car has been a radical change, for better.
Go to top